Does your business provide customers with fresh and delicious food? Proper refrigeration is crucial to keeping your business up and running and your food tasty and safe to eat. You can make sure you have a reliable commercial refrigeration system by calling the team at Market Equipment for all your commercial refrigeration services. We offer 24/7 repair services, maintenance services, and even installation services.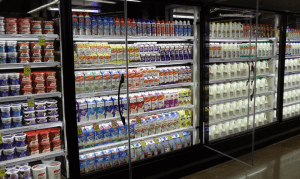 Common Commercial Refrigerator Repairs
Our team knows there is never a good time for your cooling system to start acting up, but we have you covered here at Market Equipment. Our technicians have years of experience and have been trained to fix almost all problems that arise. Some of the common commercial refrigeration issues we deal with include:
Leaking water- You often have a clogged drain hose or defrost drain opening if your refrigeration system leaks water. Another problem can be your gasket around the door could be worn out. We carry replacement parts that are needed to get this fixed quickly.

Fluid in food compartments- if fluids have accumulated in the fresh food portion of your refrigerator, this could be due to an old or damaged door deal. We have replacement seals in stock and can get you fixed the same day.

Excessive frost- Excessive frost can be due to a faulty evaporator fan. One of our trained technicians can look and have you up and running soon.
These are just a few of the common issues we face on any given day. We know that when one part of your commercial system fails, it can derail your entire business.
FAQ for Commercial Refrigerators
Our customers are always asking questions, and we love to answer all of them! Some of the most common ones we answer are:
Do refrigerators require maintenance?
Yes! Refrigerators require maintenance, and we are happy to offer a maintenance plan to you.
Can a compressor be repaired?
This is a tricky question, and it is best to let one of our technicians look first. They can easily identify the problem with your unit and let you know if it is related to a part on the compressor, such as the fan. They can also let you know if the entire compressor needs to be replaced.
Customers in Yakima WA
Market Equipment loves working with commercial businesses all over Washington. Yakima is a city in Yakima County with a population of over 92,000. We have been helping businesses in this area for years and would love to continue doing so. If you are in the Yakima area and need commercial refrigeration services, give us a call.
For All Our Services
Market Equipment is proud to offer many services for our commercial businesses. We offer service and maintenance, preventative maintenance, emergency services, and much more. To see how we can help your business, give us a call today. Our phone number is 509-325-4526.