Market Equipment is your one-stop shop when it comes to commercial refrigeration installation and maintenance. We offer professional service, products, and technicians who ensure your food is stored and sold at the ideal temperatures. We know you have plenty to worry about, so leave the refrigeration and freezer service to us.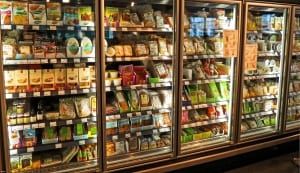 Commercial Refrigerator Repair
You deserve equipment you can trust, and we know what a mess a faulty refrigeration and freezer system can do to a business. We are happy to offer one point of contact for all your installations, repairs, and maintenance needs. Our technicians are experienced, meaning they get the job done right, the first time on your schedule and for a reasonable amount.
In a perfect world, equipment does not break, but in reality, something is bound to tear up over time. We can handle calls for:
Walk-in coolers and freezers

Reach in coolers and freezers

Undercounter refrigerators

Ice machines
We have your refrigeration needs covered from start to finish. We promise to repair your equipment with fixes that will last, or we can replace your unit if the need arises. Our technicians have years of experience with commercial refrigeration repair, and we offer a 24/7 emergency service for those unexpected breakdowns.
The Importance Of Maintaining Your Commercial Refrigerators And Freezers
The best way to ensure your commercial appliances remain in tip-top shape and performing at their highest level of efficiency is to have them semi-annually inspected. By doing this, you will save yourself and your business from frustration, loss of time, and costly future repairs. 
Some of the simplest items to maintain on your appliances can often be overlooked. For example, cleaning the condenser coils on your appliance will help with reducing the amount of energy it requires to properly maintain temperatures. Door gaskets, hinges, and latches are also easily avoidable and corrected issues that can lead to losses in energy and more if not caught and corrected sooner than later. 
Clearing out your appliance's drain lines is another important item to remember for regular maintenance. The cleaning of your drain lines is most effective when done by a professional service technician with specialized equipment. 
A technician with specialized training will be able to easily identify issues with your equipment. Many issues that a tech can identify and help maintain include checking control wiring, electrical connections, suction line insulation, and levels of refrigerant. A technician would also be able to check your appliances motors and fan blades. All of these items are vital for a properly operating and cooling or freezing appliance. 
Benefits Of Performing Regular Preventative Maintenance
By performing regular checks on your commercial appliances, you will be helping to extend the life of them. This translates to major savings for your business since the replacement of a busted appliance or the loss of business due to bad product can mean serious cash costs. 
Also, by noticing and fixing simple and minor issues before they have time to create or become larger ones definitely helps keep money in your pocket. With your equipment operating at peak levels and efficiency, power consumption and overall stress on the appliances will be greatly reduced, as well. 
It is also important to remember that by filling your cooler to its max may also make it work harder and can lead to serious risks and a shorter life for it. By leaving some space in your cooler, you will reduce the stress and operation of the unit which will help prolong the life and efficiency of the equipment. 
Some Things YOU Can Do
One of the best ways to ensure your appliances are in healthy condition and operating efficiently is to simply keep them clean. You wouldn't allow your home to become filthy and remain that way, right? So, you should never allow your business to operate that way either. When you are storing food or other items that require cooling, it is vital that the refrigeration area be clean. 
When cleaning your commercial refrigerator, less can mean more. Those harsh industrial chemicals can not only harm the surfaces of your appliances but may also pose a serious threat to the products you store inside. Fortunately, warm, soapy water and some sponges should work great for cleaning your equipment. Just remember to remove and store everything someplace safe, as well as unplug the unit. 
Commercial Refrigeration FAQ
We know you need all your equipment in top shape when it comes to your business, but unexpected things do occur. Some of the most common questions we get asked include:
What type of repairs can you fix?
Our team is equipped to handle almost every problem your commercial refrigerator can throw at us. This includes cooling system problems, puddles under the fridge, strange noises, and no ice. 
What can cause my refrigerator to not startup?
A faulty motor could be the cause of your refrigerator not starting. In many cases, the unit will shut down immediately or will not start at all if the motor is defective. Motors typically can be replaced relatively quickly. 
Repairs in Ellensburg, WA
If you own a commercial business in Ellensburg, WA, we would love to help. Ellensburg is located east of the Cascade Range and near the junction of Interstate 90 and 82. With a population of over 21,000, it is a growing community. We have been serving businesses all over Ellensburg and surrounding areas such as Spokane and Richland for years. 
Contact Us For Your Commercial Repairs
Our team knows what a hassle it can be if one of your commercial refrigerators is acting up. Please do not get caught off guard; give our team at Market Equipment a call today. We offer commercial refrigeration installs, service, and maintenance plans. We can be reached at 509-325-4526 or on our website on the contact us tab.