Market Equipment is your one-stop shop when it comes to commercial refrigeration installation and maintenance. We offer professional service, products, and technicians who ensure your food is stored and sold at the ideal temperatures. We know you have plenty to worry about, so leave the refrigeration and freezer service to us.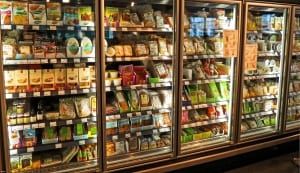 Commercial Refrigerator Repair
You deserve equipment you can trust, and we know what a mess a faulty refrigeration and freezer system can do to a business. We are happy to offer one point of contact for all your installations, repairs, and maintenance needs. Our technicians are experienced, meaning they get the job done right, the first time on your schedule and for a reasonable amount.
In a perfect world, equipment does not break, but in reality, something is bound to tear up over time. We can handle calls for:
Walk-in coolers and freezers

Reach in coolers and freezers

Undercounter refrigerators

Ice machines
We have your refrigeration needs covered from start to finish. We promise to repair your equipment with fixes that will last, or we can replace your unit if the need arises. Our technicians have years of experience with commercial refrigeration repair, and we offer a 24/7 emergency service for those unexpected breakdowns.
Commercial Refrigeration FAQ
We know you need all your equipment in top shape when it comes to your business, but unexpected things do occur. Some of the most common questions we get asked include:
What type of repairs can you fix?
Our team is equipped to handle almost every problem your commercial refrigerator can throw at us. This includes cooling system problems, puddles under the fridge, strange noises, and no ice. 
What can cause my refrigerator to not startup?
A faulty motor could be the cause of your refrigerator not starting. In many cases, the unit will shut down immediately or will not start at all if the motor is defective. Motors typically can be replaced relatively quickly. 
Repairs in Ellensburg, WA
If you own a commercial business in Ellensburg, WA, we would love to help. Ellensburg is located east of the Cascade Range and near the junction of Interstate 90 and 82. With a population of over 21,000, it is a growing community. We have been serving businesses all over Ellensburg and surrounding areas for years. 
Contact Us For Your Commercial Repairs
Our team knows what a hassle it can be if one of your commercial refrigerators is acting up. Please do not get caught off guard; give our team at Market Equipment a call today. We offer commercial refrigeration installs, service, and maintenance plans. We can be reached at 509-325-4526 or on our website on the contact us tab.